Hot
New
BUY 1 GET 2nd 20%OFF
Out Stock
Protect Cervical Health-Cervical Traction Device
Today Only! You Save: $50.00 (51%)
PRODUCT INFORMATION
Returns & Exchanges
Shipping Info
CUSTOMER REVIEWS
PRODUCT INFORMATION

Naturally Eliminate Neck Pain
If you're reading this, chances are you spend at least 6 hours a day stuck in front of your computer, phone or TV. 
The result? Your neck is stiff, sore and painful.
Long-term, this can lead to more serious issues like arthritis, a reliance on pain killers and in some cases, high-risk surgery.
Using the power of cervical traction, the Neck Cloud reverses neck damage which will eliminate your neck pain, TMJ and tension headaches in just 10 minutes a day.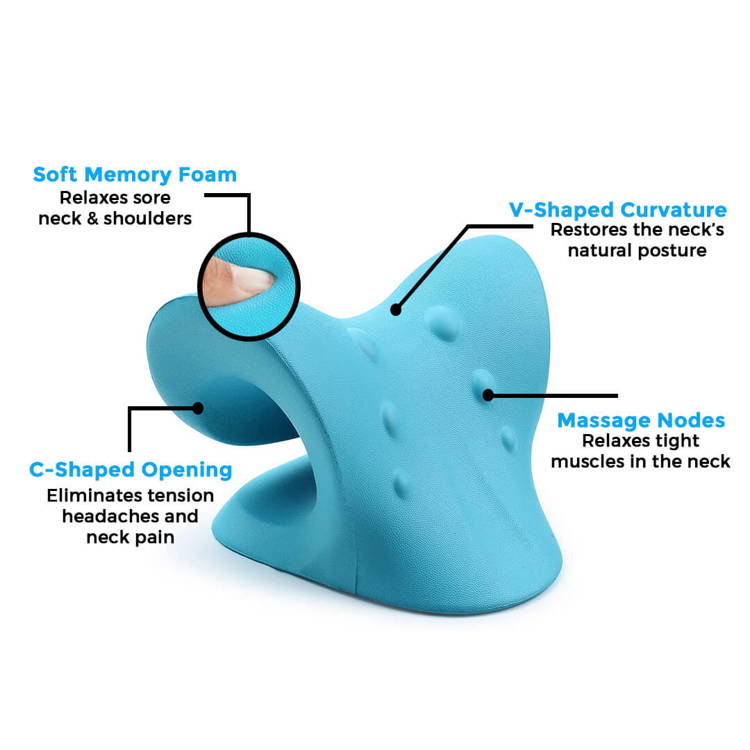 You've probably tried several other neck pain products that promise the world and fail to deliver. And, I'm here to tell you it is not your fault that you're still in pain.
Those other neck devices usually target one element of neck pain relief.
  This is great in providing short-term relief, but does not fix the underlying root cause of neck pain.
After three years of prototypes and $112,000 spent in laboratory testing, we stumbled upon the breakthrough combination of:
- Acupressure,
- Sub-occipital muscle stimulation
-The three-way system of cervical traction
Targeting all three elements of neck pain was the secret sauce that results in the instant relief of chronic neck pain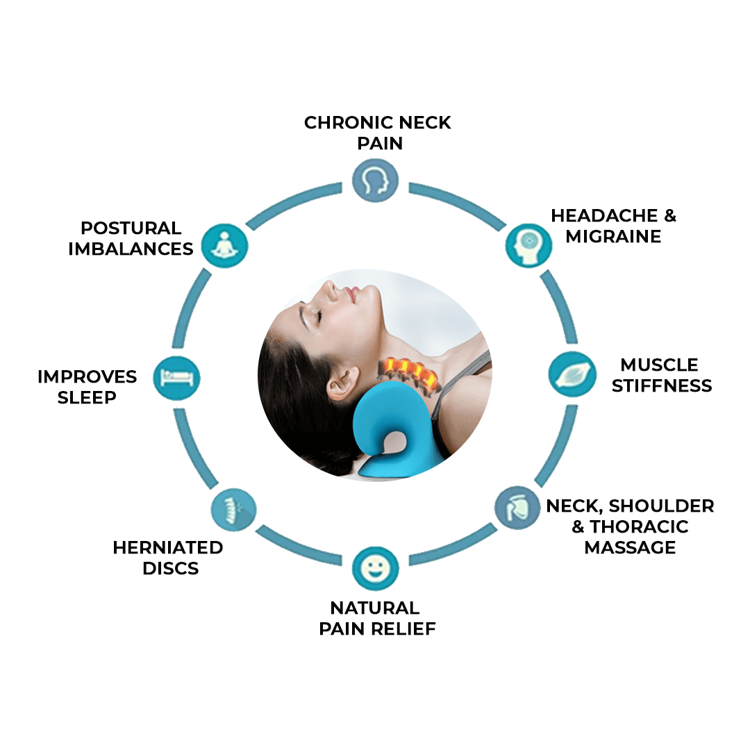 78% More Effective In Eliminating Pain
This breakthrough combination causes
the deep muscles in the neck to reset and return to a relaxed state.
Then, the three-way system of cervical traction allows compressed discs to open and relax.
This combination:
- relieves pressure on pinched nerves,
- decompresses discs,
- improves posture
- and floods the neck area with nutrient and oxygen rich blood.
The result is instant relief from chronic neck pain, TMJ and headache, and a device 78% more effective than the leading competitor. 
With consistent use damage is reversed, providing long-lasting relief from neck pain.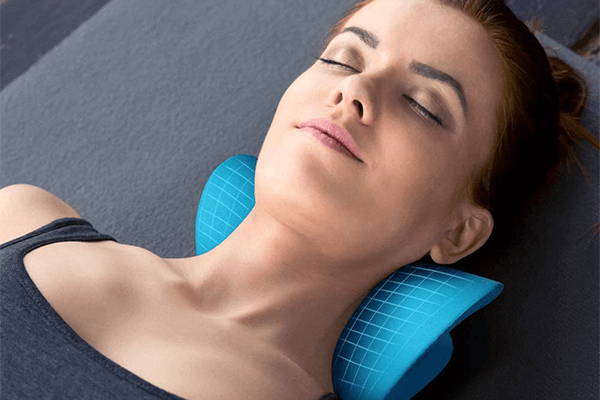 - Instant Pain Relief 
Relief from chronic neck pain, TMJ and tension headache
Drastically improves posture
- Increase of nutrient rich blood to neck area
- Increase flexibility in neck and shoulder region
- Reduces impact of chronic problems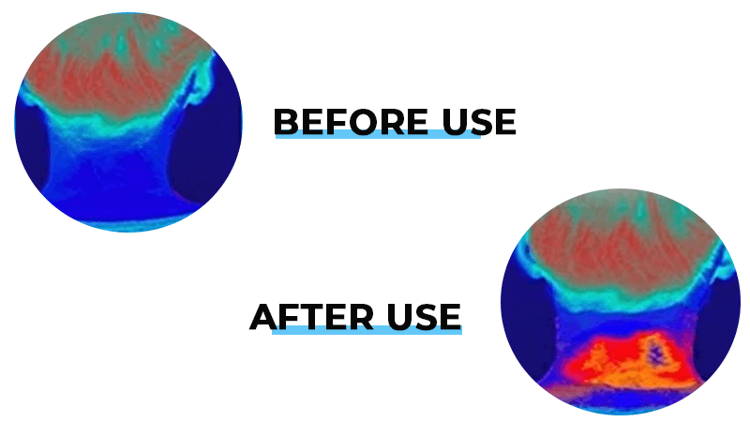 When muscles are stressed and contracted, they choke off their own blood supply, causing damage and impacting their ability to heal. 
When you use the Neck Cloud, it causes a release in muscular tension and a flood of nutrient rich blood to the neck and shoulder area.
This aids in recovery and can reverse significant damage to the neck region. This results in long term relief from neck pain and muscular soreness.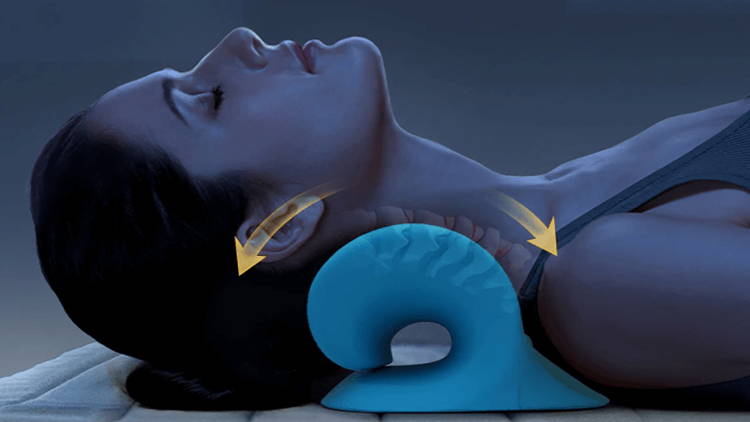 The Perfect Stretch Every Time
The Neck Cloud has two levels, the convex side provides a reduced amount of traction and is ideal for someone with severe neck pain and a poor range of motion.
The concave side provides the greatest stretch and is perfect for more advanced users.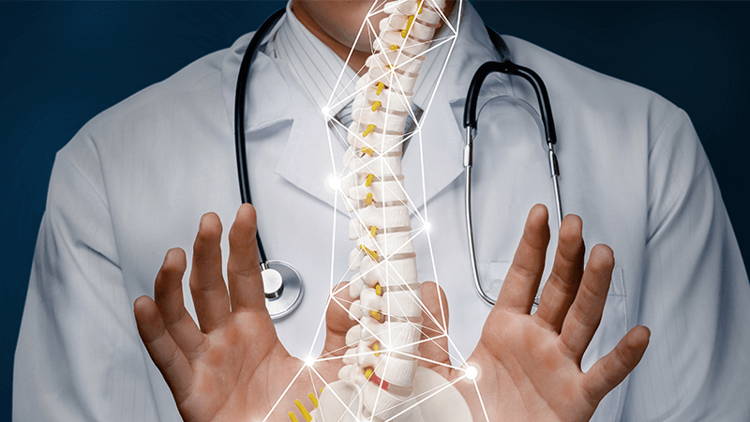 Professionally Designed & Recommended
Chiropractors and massage therapists aren't always in arms reach.
The Neck Cloud has been designed and recommended by chiropractors as an effective way to get pain relief when you need it most.
For less than 1/5 of the cost of one therapist treatment, you can get results that last a lifetime.
Fantastic Quality Of Life
Neck pain, soreness and other ailments like TMJ or tension headaches can wreak havoc on your life. Everyday activities are a constant reminder of the pain you constantly feel. 
 Today, you have the power to make a change. In eliminating your pain, the Neck Cloud creates the secondary benefits of:
- Elevation in mood 

- Improved focus at work
- Amazing posture and confidence
- A pain free sleep
You can finally get back to living again.
BONUS: Order Today and Receive Neck Pain eBook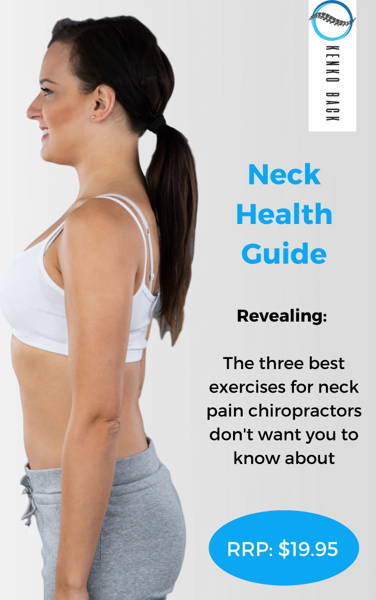 Normally valued at $19.95, our neck pain eBook comes free with every purchase. 
Revealed Inside: 
1. The three best exercises for neck pain chiropractors don't want you to know about! 
2. How to use guide for your neck stretcher
**Offer valid today only**
Returns & Exchanges
Returns & Exchanges
We're bummed if you're not 100% satisfied with the items you received, and we gladly accept returns within 30 days of receipt for most items in new condition. 

1. Please send email to sales@TrendyCommune.com, indicating the item(s) you would like to return and the reason. We will get back to you within 24 hours. Your patience will be highly appreciated.
2. After our Customer Service team confirm the item can be retunrned, you will receive return instructions from us, please package up the item(s) to be returned with the original packing.
3. Drop off your package at the local post office.
4. Most returns are processed within 7 business days after we receive your package. We'll issue the refund to your payment account in advance.
5.International customers will receive refunds equivalent to the USD (US dollar) price at the time of purchase. International customers will not be refunded international shipping costs and are responsible for any costs related to returning the item (i.e. shipping and import duties where applicable).
Refund of the purchase price, less any shipping fees mentioned above will be issued in the same form as payment received.


Return Conditions

1. You have 30 days to decide if an item is right for you, if you would like to return or exchange the item please contact us within 30 days of delivery.
2. The following items cannot be returned or exchanged: bodysuits, lingerie & sleepwear, swimwear, jewelry, and accessories (except scarves, bags, and mermaid blankets).
3. Returned items must be in their unused condition with the original packing. We do not accept a returned item that has been worn, damaged, washed, or altered in any way.
4. Items with non-returnable marks and free gifts cannot be returned.
5. We do not accept returned items that have been sent back without proper returns requests.
6. We do not offer Freight To Collect (FTC) service for the packages returned to us. Customer need to pay the return shipping fee.
7. Please be sure to double-check your returns before shipping them out. We are not responsible for the return of non-TrendyCommune.com products .
Note: The original shipping fee and Shipping Guarantee are non-refundable.

Return Address
If you wish to return the items to the nearest return address, please send email to sales@TrendyCommune.com, our customer service representative will get back to you within 24 hours.

Note
Please do not send your return to the address on your package. That is not our return address and will affect the processing of your return.
Shipping Info
Country/Region
Shipping Method
Costs
Shipping time
United States
STANDARD

According to the product

7 - 15

Days

Others

STANDARD

10 - 18 

Days
Notes:
1) Shipping Time does not include a 1-3 day processing period required to process your order from the date your order is placed.
2) We will make every effort to deliver your package ASAP. However, additional time may be required due to invalid addresses and custom clearance issues.
3) Should your package not arrive within 25 days after you have placed your order, you must contact Customer Support within 30 days after your order was placed.
I opened the package and immediately put it behind my neck while watching the game! I'm going to order the small one now! This is the best thing since sliced bread!